This may sound a little hippy dippy, but there's science behind this stuff!  Try this out.. YOU DESERVE IT!
Start from your heart. STOP acting from your head.
Going from Thoughts to Actions just doesn't work.. our heads get in the way.
FEELINGS first, then Strategy.
"It's not the particular achievement or getting the thing that's really driving us.. What we're going for is the FEELING we want to feel when we get what we want" –  Danielle La Porte..  1 of  OPRAH's SuperSoul 100 ).. That's a big deal
Do THIS:
1. Write out your " Core Desired Feelings" – Danielle LaPorte
This is 3-4 words that clearly state how you want to feel at all given moments throughout your day. Here's mine: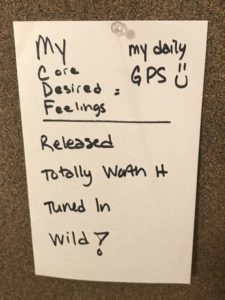 Whether I'm at Trader Joes, doing research, on a run, out for happy hour, having a difficult conversation, cleaning my house… I want to feel Released, Totally worth It, Tuned in & Wild.
Each of these words hold a lot of meaning for me.
Now come up with 3-4 of your own.
2.  Write these out – Put them in your phone & 4-5 pieces of paper to put all around you- Wallet, glovebox, satchel, gym bag, fridge door, bathroom mirror.
3.  Put these words to EVERYTHING you do.  How you order at happy hour, how you approach your workout, how you show up for people in your life, how you do your work, how you pick out your Netflix show.
LET YOUR CDF's be your GPS!
Feelings FIRST, Perception SECOND, Thoughts THIRD… Your feelings determine your perception and THAT drives your thoughts into action!
Now as you step up to that next thing you know you gotta do, but don't really FEEL like doing – pull out your CDF's .. will this thing make you feel any of your CDF's?
 green juice over muffin
5 min meditation over social media
moving outside over grinding through computer work
making time for a friend over going to a yoga class)
It's been a total GAME CHANGER for me I'm staying more on track to my goals than I've ever been before.  I'm way more decisive & ease-fullly driven. That's effing awesome!
 Feelings first, THEN strategy. Go from 1. Your Heart (how you feel) THEN 2. Your PERCEPTION (how you want to view things) THEN 3. Your Thoughts  then you take action with that next best step
What made me do this – was the PROOF, science behind why this works.
I hope this helps you and you totally enjoy it.  If you need someone to keep you on track and accountable .. that's kinda what I'm here for:)
Bre
206-310-9079