This 5 min video gives you 2 breathing exercises that instantly get you to chill out. I was asked to create this and 2 other videos for Harborview Medical Staff. Scroll down to learn why they are using all 3 videos daily and how to get them for yourself, right now!
Click Here to get the step by step downloadable guide + my 2 other videos in a complete digital package (details below)
Mid Feb 2020, Dr. Nancy Sugg told me: "Things can get scary, real fast… we've got to keep working no matter what happens" . Then Covid hit and her Harborview clinic was hit hard.
Her staff was facing a shit storm, they had to now how to keep their heads up and eyes forward while feeling overwhelmed, exhausted & fearful. Nancy knew I could help them
My tools had gotten Nancy off the floor many times. When she'd hit a wall (Hard workouts + grueling work hours) I could bring her back quickly with specific breath work and movements. Within seconds she'd be back on her feet, head up and ready to go.
There's a simple trick.. we just have to get out of our heads and into our bodies, quickly. That's when our nervous system calms down and we make better decisions faster. Only then can we be stronger and move on better
She knew her staff needed this stuff, pronto. I got to work and created my "Sanity Saver" digital package for them.
3 videos they could nail on the most busy days to keep them healthy and strong through the Covid storm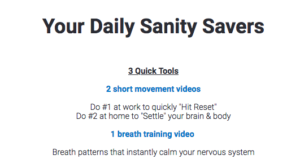 It's working! One staff member just emailed "Thanks for sending this Dr. Sugg! This is just what I need after a crazy week!"
Truth is every human could use these tools right now. These tools help you step out of big feelings and come back quickly so you can keep doing better.
Click HERE to get my full Sanity Saver Digital Package for just 14.96
You get all 3 videos + their step by step downloadable guides. With the Sanity Saver digital package you can access it easily, anytime. Just Click to register and I will email it to you within 10 mins.
These tools are yours for life! If you are not happy with the content, I will fully refund you. Here's a bit more info on what you'll find in this online package.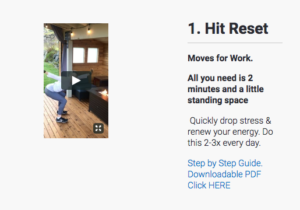 "Hit Reset" Video is for work- This shows people how to get their get their shit together in less than 5 minutes. One breath drill and 3 simple moves does just that. Totally doable in any cramped space, standing, wearing any type of clothes and possibly a mask.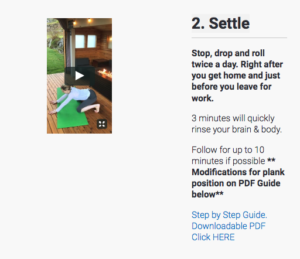 "Settle" Video is for home– A quick rinse for the mind and body. Dump stress from work, de-stimulate and re-energize. Perfect right after work or just before heading to work. Doable in 3 mins – but 10 mins get you a sweaty workout.
+ you get the Breath video with science backed take action guide. It's all waiting for you, right HERE. I will drop the package in your inbox within 10 minutes