Here are 4 quick workouts you can get done no matter what! Number four is in heels with standing room only. No excuses can exist here:)
Each one is less than 1 minute. You don't need workout clothes or gear. Just watch the video and follow steps below each one. All you gotta do is:
Get your cute butt up and do the moves!
Set a timer for 2-3 hours and repeat. Do this 3-5 times each day CLICK here for Science on why this is better than a 30 min workout!
Drink Matcha
Seated Rotation 1/1
Hinge to Hip thrust
Wall Plank + Shoulder Tap 2/2 Alt
Drink Water and go back to work
Here's Micro Workout #2 (Below)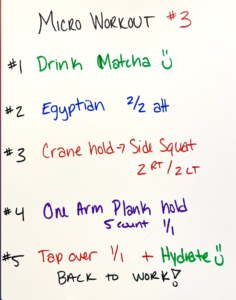 Happy Holidays!
Bre
VIDEO #4 STANDING ROOM ONLY