If you're someone who loves setting goals, but often you fall short.. guess what – you're normal! Danielle La Porte believes we've been doing things backwards. Turns out, this whole approach of stating what we want and then taking action does NOT work well for most humans.
La Porte says we're doing goals all wrong. She should know, she's one of Oprah's SuperSoul 100 & has been featured in Forbes magazine as one of the top business coaches. Danielle teaches people how to keep " their souls on the agenda" I gotta say her " Desire Map" System works super well. Try these 3 steps below
Don't think then Act. Feel first, Strategize second THEN Take Action

"It's not the particular achievement or getting the thing that's really driving us.. What we're going for is the FEELING we want to feel when we get what we want" – Danielle La Porte
Start from your heart. STOP acting from your head. Going from Thoughts to Actions ju

st doesn't work.. our heads get in the way.
USE this simple 3 step process
1. Write out your " Core Desired Feelings"
This is 3-4 words that clearly state how you want to feel at all given moments throughout your day ( Put your Soul on your Agenda!) Here's mine: Released, Beautiful, Content, Present, Prosperous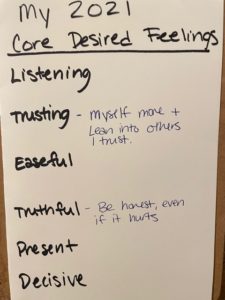 No matter what I'm doing; grocery shopping, research, coaching a student, working out, cleaning… I want to feel like I am Listening, Trusting (of myself) Easeful, Truthful, Present & DecisiveEach of these words hold a lot of meaning for me. Now! Come up with 3-6 of your own
2. Write them out – Put them in your phone & 4-5 pieces of paper to put all around you- Wallet, glovebox, satchel, fridge door & bathroom mirror.
3. Put these words to EVERYTHING you do. How you cook at home, how you show up for work, how you approach your workout, how you pick out your Netflix shows.
Put your soul on your agenda EVERY DAY = See your CDF's

Feelings FIRST, Perception SECOND, Thoughts THIRD…
Your feelings determine your perception and THAT drives your thoughts into action!
Now as you step up to that next thing you know you gotta do, but don't really FEEL like doing – pull out your CDF's .. will this thing make you feel any of your CDF's?
5 min meditation over social media
moving outside over grinding through computer work
Stopping and listening to a loved one over working on your checklist for the day.
It's been a total GAME CHANGER for me I'm more decisive & ease-fully driven. That's huge.
Feelings first, THEN strategy. Go from 1. Your Heart (how you feel) THEN 2. Your PERCEPTION (how you want to view things) THEN 3. Your Thoughts then you take action with that next best step
I hope this helps you and you totally enjoy it. If you need someone to keep you on track and accountable .. that's my bag. shoot me a text of email and I'll keep you going strong!
brebrighter@gmail.com
206-310-9079
Coach Bre