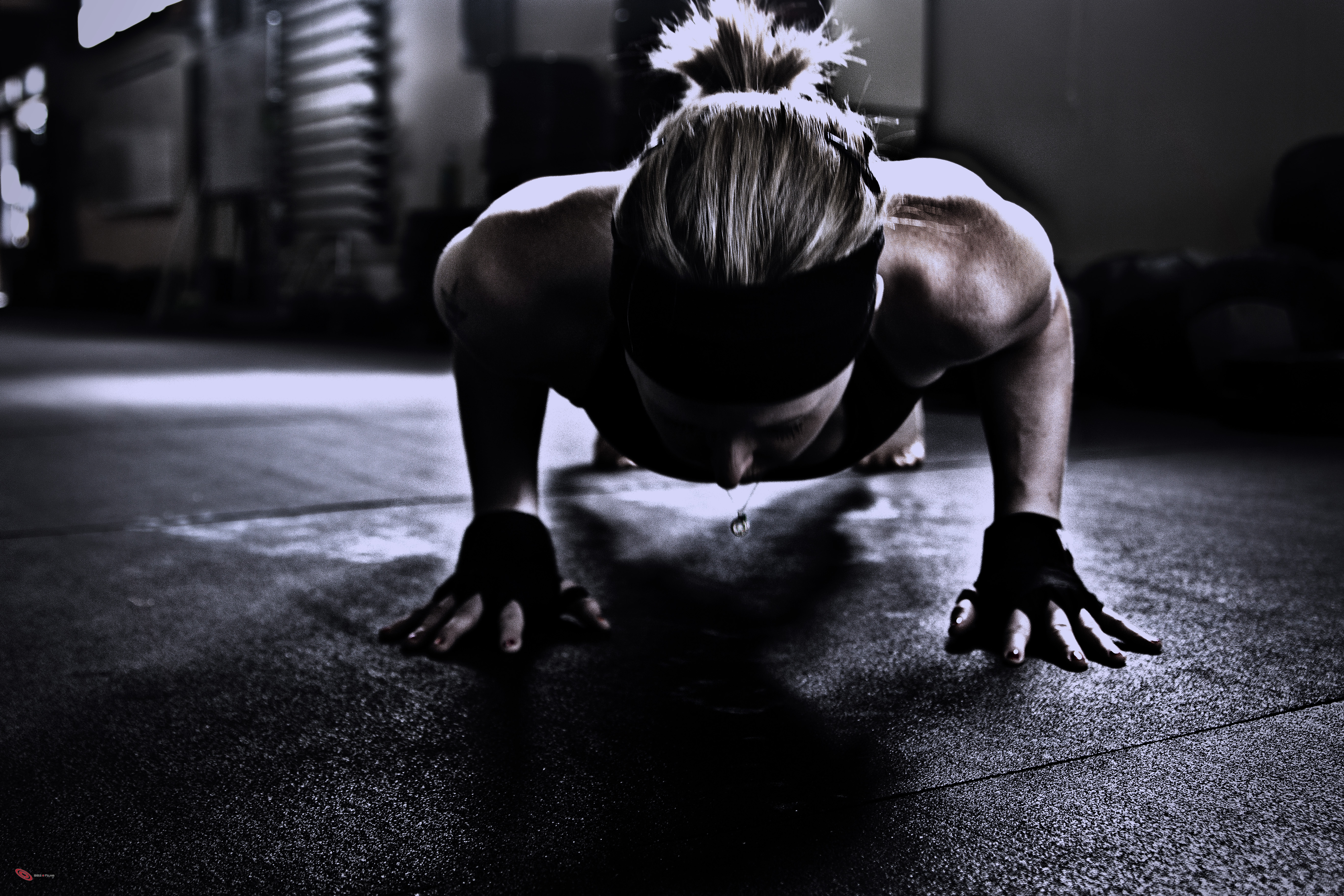 Okay – So I posted this video mid July and here it is 6.5 weeks later.
OKay! Here we are back at the Push Up. Why?
Because it gets results.. pure and simple. Push ups have HUGE payoffs.. they are one of the most simple and most beneficial exercises. Do them right and you will score some ripped abs and toned arms!  This IS a total core and freakin' full body exercise.. if you do them right.
What's that? You can rock push ups.. great! Take on the 1 arm Pushup with me
BUUT know this.  To get stronger you've got to
Keep working outside your comfort zone

– STOP doing pushups from your knees. Stop doing more than 5 reps.  Pick a way that makes it freakin' hard to get to 5 reps. Pick one of these ways to make it hard to get to 3
Stop Sandbagging ( Doing " knee" push ups )- Don't drop yourself down.. Raise the floor UP!
use a raised surface. One you can keep good form (see below rules) AND one you cannot rock 4 in great form right now.. you're gonna work up to 5 in the next 30 days.
2. KEEP doing them 3-4 times a week!  At least 3!
My below routine will literally take you MAYBE 10 mins each time. You totally can fit in 30 mins a week.
3. KNOW that STRENGTH takes TIME!  Heck – look at how freakin' hard I have to work
I only dropped down 3 risers in 6 Weeks.  That's with me doing this work 3x a week EVERY freakin' week for the past 6 weeks.
If you want to get stronger YOU'VE got to keep putting in the work and have patience. Take short cuts and your results will never last OR You'll get injured, no bueno!!
Last tip – A Bonus Tip – TO get there faster..
Recover more.
Seriously! Muscles cannot grow without recovery. This means at least 7 hours of sleep a night 5 days a week AND
1 FULL recovery day ( that does not mean a yoga class and a bike ride.. this means one full day NADA physical work)
Here's how to get the most results from your  2 ARM or 1 ARM push ups
1. Keep your elbows in – Elbows out simply builds wide shoulders and turns off your core – STOP THAT!
2. Keep your butt tight as possible! – This keeps your deep abdominal muscles on
3. Go all the way down and up. – Stop cheating yourself and going half way –

NOSE

to the floor friends.
Can't quite nail all that – No sweat – all ya gotta do is bring the floor up to you! No assists or knee push ups.. This is greatly holding you back.
SImply pick a raised surface – find a height you can get all the way down to AND all the way back up from after touching your nose.
Do this protocol 3 times a week
Have at least 1 day between each set up – SO maybe  Tues/ Thurs/ Sat set up
Tues = find the height you can do JUST 1 full push up down and up –  maybe this is a wall in your house OR a raised step – As high as you need to make it to touch that chest ALL the way to the bench and back up. Even if that's  with 13 risers.
Do 1 full push up – then go do some challenging cardio for 2-3 mins – come back to your next push up- JUST ONE, Repeat 5x. So 5 Push UPs, 10-15 mins cardio
Thurs = Pick a riser height you can do 5 push ups in a row – so maybe 15 risers.  Right after that hold a long arm plank for :20 counts
DO something for 2-3 mins again – abs, jump rope, stay fast and loose
Repeat 3x on this
Day 3 = 3 push ups – so maybe 13 risers.
Again recover for 3 mins between each set – stretch, do some cardio – Just DON'T use your arms in this 3 mins recovery!
I'm sticking to this exact training regime myself on my 1 arm push ups..
most of all stay patient – you'll get there! I'm gonna keep at this same protocol for 7 more weeks. I'll check in with you AND own up myself – First of Nov– watch out!
Start on this yourself and keep in touch with how it's going!  Either FB message me or Email breanne@burnbrightercoaching.com
And if you wanna know more about this One arm Push up deal – check out the Bodyweight Cert through Strongfirst – it's pretty cool!