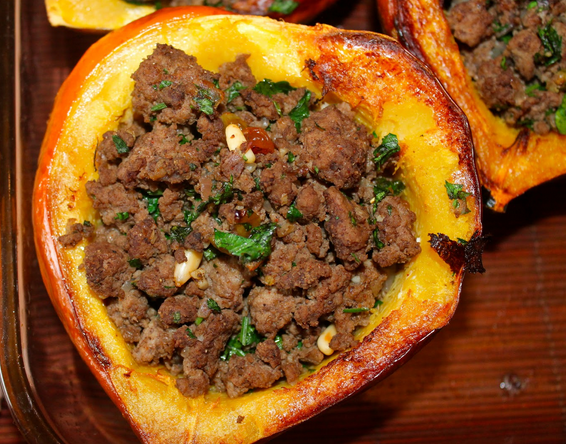 Preheat oven to 425.
FIRST Bake acorn squash:
Slice in half – 3 acorn squash (each person gets a half)
Sccop out seeds in center and place facedown in baking dish – add 1 inch of cold water
Place in oven and let bake for 30 mins.
**once timer goes off, drain water – turn face up and bake for another 15 mins
FILLING
2 tbsp ghee
1 sweet onion – diced
4 celery ribs diced
4 garlic cloves minced
1/2 tsp cinnamon
1 tsp dried thyme
2 lb grass fed lamb
1 cup tomato puree
1 cup chicken broth
4 cups escarole
Get out a very large saucepan – drop in ghee and let heat over med heat for 1 min – add the garlic, celery and onion. let saute on low for 3 mins
Add cinnamon and thyme – stir and let suate for 1 min more
Add lamb and cook for 4-6 mins till good and brown
Add Tomato puree and chicken broth
Mix evenly and let simmer for 10 mins on low
Add escarole bout 1-3 mins before done (so 7 mins into simmer time)
DONE!
Scoop lamb mix into acorn squash – Put BACK in oven on Broil for 2-5 mins.
ILOoove topping this with a little grated pecorino, sheeps cheese, + some avocado
ENJOY!