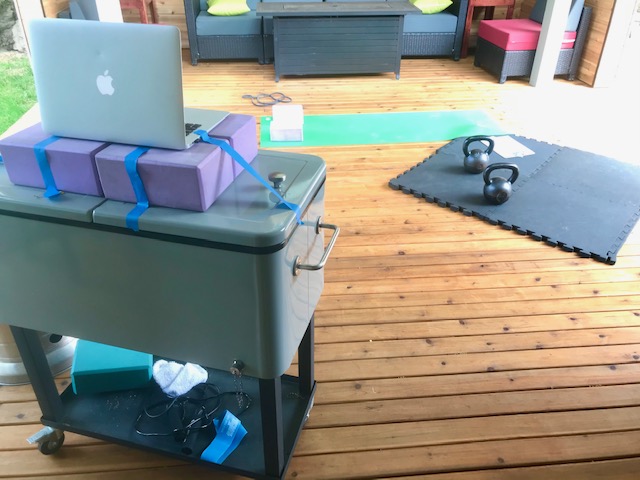 It's time to get a better set up at home! This will help you interact better with any type of coaching/video sessions you have.CLICK here for virtual training with me!
If you have your smart phone, tablet or computer down low (below 3 feet/ 36 inches) STOP! You are doing your body harm. Watch the video & follow the steps below
1. Get a large screen device, do the best you can. I am using my MacBook laptop. The camera view will be larger so others can see you better & You will not be constantly peering in to see them
2. Put your device up high– At least 3 feet! Take time to find a great, permanent set up for this. I am using the seat of a high office chair in my office and 2 yoga blocks underneath my laptop. Outside I have a tall, rolling beverage cooler from Amazon with yoga blocks taped down on top of that to add height
3. Be ready!! Set up your device then give it a test – can your screen see all you want it to. I take a good 8 mins before any call to set up my space.
This includes having your workout gear ready & if you're one of my students – print out that program I sent you, please!!I work hard to send very detailed programs so you can move confidently and if we have any interruptions you can keep moving well.
Now, promptly! Order/Buy yourself higher surfaces, larger screens to keep doing all your things. You will need this better set up every day.