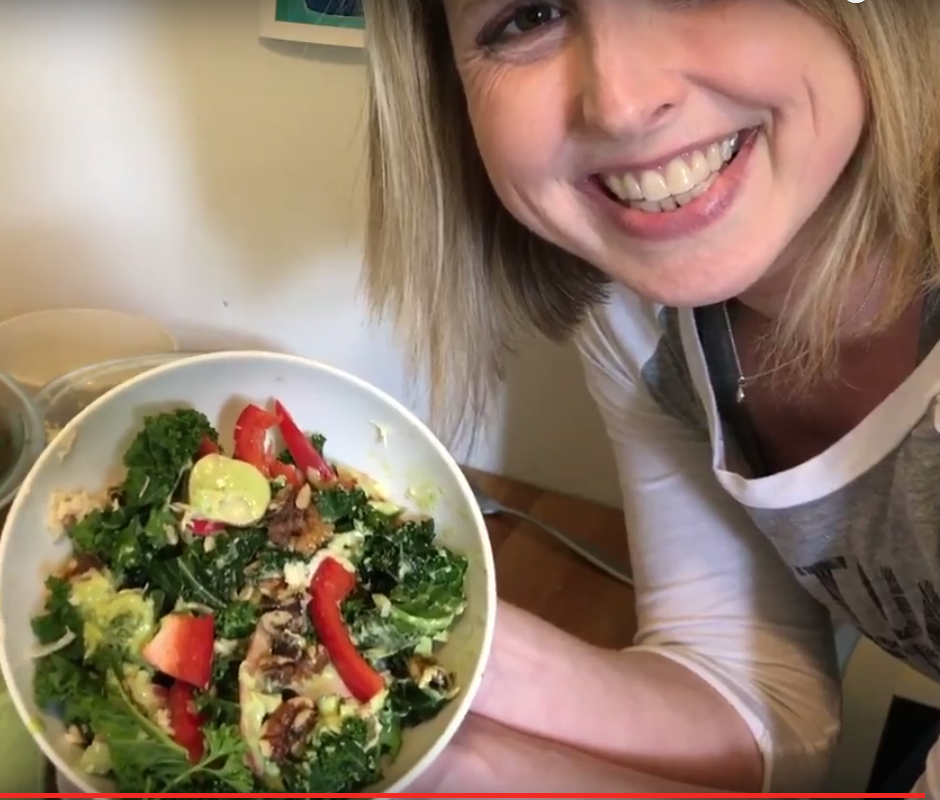 So, you can't get to an awesome salad bars like Evergreens  and you're not sure what you really need in your bowl.
There's so many options:
hardboiled eggs, beans, peas, corn , bell pepper, mushrooms, kale, chard, cabbage spinach, artichokes, cranberries, goat cheese, steak, turkey, tuna, quinoa, beets, zuchinni, cucumber, radishes, celery, walnuts, sunflower seeds, fruit, tofu, 8 different dressings and more!
More is better, right?
Nope! Think again,  put 8 things in your bowl and that's a ton of work for your body. Hello naptime, bloating and room clearing gas
So how do you make the best choice AND actually like how it tastes?
I hear ya, that's why I've created this super simple Video and outline of what you need in your salad, why and how to keep it delicious. This will for sure help you save money as well (those add ons add up!
 4 Steps to the best Bang For Your Buck Salad 
Want some delicious bread to go with that? CLICK HERE for my Best Paleo Bread (sooo good!)
#1. START with the base – leafy greens
Get the single most dark leafy green.  This means Kale, Chard, Mustard Greens or Spinach.
These are listed from best to 3rd best ( So Kale wins),  The darker the greens, the more nutrients you get! Stuff like calcium, vitamin D, E, K, iron, magnesium
#2 MOVE ONTO
Two brightly colored veg. Carrots and green peas OR beets and purple cabbage. The more color the veg has the more good stuff you get!
Anti-oxidants are found in foods deep natural colors. That's deeper and richer the color the more vitamins and minerals you cash in on.
My favs are bright green peas and beets
#3 ADD PROTEIN to Keep Full longer
You got stuff to do! being hungry is a giant inconvenience. This salad better fill you up.
Pick ONE protein: Tuna, Turkey, Hard Boiled Eggs, Ham, Tofu… it's up to you. If you're looking for the LEANEST choice- stick to this rule:
Pick a source that moved a lot. So Tuna move more than Turkey, Chickens move more than pigs (ham) – get it?
My fav go to is Fresh Tuna or Diestel Farms Turkey
#4 Keep Nutrients in You. Sprinkle on some Healthy Fats
Nuts, seeds, avocados, salad dressing.  Pick 2 seeds OR 1 nut choice and 1 seed. All you need is about 10 nuts max and 3 tbsp seeds – A little goes a long way
What's best?  I'll keep it simple – walnuts, pumpkin seeds and sunflower seeds win (more omega 3's, vitamins and minerals)
Salad Dressing?  DON"T SKIP IT!  Do you know that your body actually cannot absorb vitamin D and calcium without some healthy fat?
Totally True
What you don't need is a bunch of sugar or cream. So skip the raspberry vinaigrette and ranch. Head for the Olive oil and balsamic or Tahini.
I put a couple that I love – Homemade and Store Bought Below.
So there you have it!  Dark Leafy Greens (2 max), 2 brightly colored veg, 1 protein, 2 healthy fats (avocado and walnut) and a little drizzle of dressing to bring it all together.
Doesn't that feel better! Hope so:)
#1 Homemade
Creamy, Zesty Asian dressing
¼ cup hemp or flax oil
3 tbsp raw honey
1 jalapeno- ½ and de-seeded
10 tbsp orange juice ( bout 2 small juice oranges squeezed out)
¾ small avocado (5 tbsp)
juice of 2 limes
2 tsp grated ginger
water to consistency
Combine all elements and mix in a blender till creamy.  Enjoy on any salad.
Lasts  up to 3 weeks in the fridge
#2 Homemade
Honey Dijon Dressing
2 tbsp stoneground dijon mustard
2 tbsp raw honey
1/4 cup olive oil
3 tbsp cold water
1 tbsp apple cider vinegar
1 clove garlic
2 tbsp minced ginger
Directions: Put all Ingredients in a blender, mix well and enjoy:)
TWO best tasty store bought salad dressings
I love both these.  They are everything healthy and delicious.
Dairy Free, Sugar Free and Gluten Free. Enjoy!
Just remember a little goes a long way:)
Save
Save
Save
Save
Save
Save
Save
Save
Save
Save
Save
Save
Save