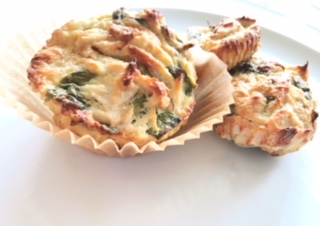 Sooo Turns out the Starbucks Egg Bites – Sou Viex egg white bites
are SUUUUPER  NOT good for us.
Well, so long as you want to stay lean, boost your energy, not pack on a gut or feel crampy and crabby later
This is because these babies are chock full of low quality cow dairy!
As my clients know – Cow dairy has this intensely pesky protein (casein) that slow your metabolism AND inflames your body.
Heck the first ingredient in Starbucks egg bites is cottage cheese, there's also dried whole milk powder in here and a bunch of other stuff that's gonna piss your body off and act like kryptonite to your body and brain.
Instead – make up a batch of these! Save your body and some money
I pack these on busy days- super delicious cold and on the go.
**PLease know you can opt out of the spicy and change up your proteins! – Try ground beef or shredded turkey etc..I would 3-5x this recipe and freeze it… in fact that's what I'm about to do tomorrow:)  ENJOY!
Spicy Tuna Egg Muffins


Yields 12 cakes (dbl or triple and freeze to have tons more down the road or for more people)
Ingredients
3 tablespoons melted ghee, divided
10 ounces canned albacore tuna packed in water, drained
3 scallions, thinly sliced (about ⅓ cup)
2 tablespoons finely minced fresh cilantro
1⅓ cup mashed baked sweet potato
finely grated zest from ½ medium lemon
1 tablespoon minced jalapeño pepper
3 large eggs
½ teaspoon red pepper flakes
Kosher salt
Freshly ground black pepper
3 medium lemons, cut into wedges (optional)
Instructions
Preheat the oven to 350°F, and use a brush to grease a 12 cup reg sized muffin tin  with one tablespoon of melted ghee. (Or skip this part and just line the tin with parchment muffin liners!)
In a large bowl, mix together the tuna, scallions, and cilantro. Add the mashed sweet potato to the tuna mixture, and gently combine.
Then, mix in the lemon zest, jalapeño, the remaining two tablespoons of ghee, eggs, and red pepper flakes. Season with salt and pepper to taste.
Use your hands to mix everything together because that way you can make sure that the fish chunks aren't overly broken up.
Scoop a ¼ cup of the mixture into each greased muffin tin cup and flatten with the back of a spoon.
Bake the tuna cakes for 20-25 minutes or until an inserted toothpick comes out cleanly.
Transfer the cakes to a wire rack to cool. The easiest way I've found to get them out is to put the wire rack on top of the muffin tin, flip everything upside-down, and tap them gently on the counter.
Grab a lemon wedge and squeeze some juice on your tuna cake before your pop it in your mouth. They're fantastic right out of the oven. Alternatively, store them in the fridge in a air-tight container for up to four days, and when you're ready to eat, skillet-fry the cakes in some melted fat over medium heat. Crisp the edges, and you're good to go.
Also totally good to grab out of the fridge and eat cold on the way to whatever awesome stuffs you have waiting for you!