If you want to be great at ANYthing, you must do it A lot, right?!
This is patterning. The video above is what I do 8x a day right now. I simply drop down to the floor or ground once every hour and do 1 rep of this push up. Please enjoy "boobs out" from my coach Andrea U-Shi Chang:)
I love patterning, it takes up less of my time (rather than a full hour workout,  you take 20 seconds – 6x a day)
Our bodies and minds get better results with  patterning. The repetition in little bursts stays with us better.
Think of teaching a kid new words and using flashcards, you have the photo on one side and the word on another. You do just a few, so the kid doesn't get bored or throw a fit. But you do them 2-4 times throughout the day.  Then once they've got it – you pick harder words to keep them moving forward.
Here's how YOU can use patterning to reach ANY GOAL.
Pick One thing (Keep it super practical)
Do that one thing the same way (Keep it consistent)
Do it VERY often ( Keep it frequent)
Do your one thing, the best you can, over and over. Increase the challenge every 2-3 weeks.   The video above is my pattern work right now to reach my goal of a one arm push up by Jan 15th 2022. Please enjoy my coach, Andrea U-Shi Chang yelling "boobs out" 🙂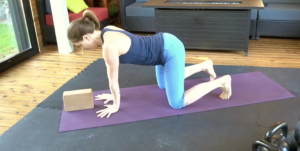 If you want to join me on better push ups  CLICK HERE for my step by step instructional video
Below are the exact steps for you  to reach ANY goal with patterning.
Patterning works for ANY goal. 
Let's say you want to lose weight.
Start with ONE thing within that goal.  Fasting is a great start= Try to stop eating 3 hours before bed and waiting longer till your first foods the next day  (a good window is 12-14 hours).
Now pick how often (how many nights) that is TOTALLY realistic for you to do. For me that I can only nail a 14 hour fast window 4 nights a week.
Now do that for 2-3 weeks, then up the challenge. Up your fasting window OR keep that pattern and ADD your next nutrition habit, more greens at dinner:)
Here's a NON fitness pattern example for you:  
You want to save $1000 a month. But that's totally unrealistic right now.
One thing = You can save $100
How often = you can set aside $100 once a week.  Set up an automatic weekly transfer for that $100. That gets you moving forward the best you can right now.
Change it in 2-3 weeks 3 weeks change that weekly transfer to $103 or $108
You're a smart human, you get the jest of this. Just remember, to keep moving forward  you must up the challenge every 2 -3 weeks.
My next step is  one arm out to the side long with 3 fingers touching – and doing 1/1 ten times a day. I will keep sharing my progressions on Instagram (Burn Brighter Coaching) for you:)
Please leave a comment below! Let me know what your one thing is, and let me know how many times a day or week you are wanting to do this.