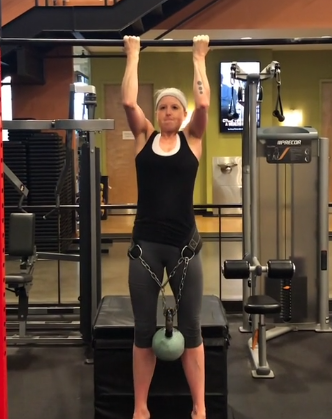 Have a hard time doing pull-ups?
That's cause you're a human being:)  Seriously.. we humans have a lot to PULL- UP!
The average Femur bone  weighs about 30 lbs.. and you have 2 of these (hopefully) . Plus a whole bunch of other bones, organs and systems you're holding up. Then we just EXPECT ourselves to be able to pull all that up with your arms?
That's 'effing hard!  Especially if you're pulling with YOUR ARMS. That's where we go wrong…
Pull ups are a FULL body exercise (that means all the muscles from 360 degrees from the bottom of your feet to your brain). Get those guys  to help your arms out and you're golden!
Here's a trick I've been practicing (thanks to Coach Karen Smith) to get these other big muscles to wake up and help my arms out.
Before I was just wrecking my elbows and jacking up my shoulders!
THE Weighted  Flexed Chin Up hold
First- DO know that a pull up is a moving plank (hello full body!
Turn this guy vertical – and wha-lah!
Second – add weight onto this form – to build strength!
If you cannot keep your chin above the bar- at least 1 inch. Stay with body weight and work up to 45 sec hold in this simple full flexed plank form.
Third Step – once you nail that!  Throw yourself a party and step it up with :
1 Full non weighted  PULL UP – plams face out then immediately strap on a 12-20 kg kettlebell and do this:
Hold above the bar with a kettlebell strapped to you – hanging by your hips – directly below your core. See Vid below. Hold for max time.
Check out full protocol below VID
Please notice I am fully flexed from my toes, calves, quads, booty, trunk, back , neck, throat, eyes & breath!  That's what ya gotta do here.
1. Get a raised surface that places your chin a good inch above the bar – you are starting and holding at the top!
anything IS everything – if you can't hold for 3 secs- get really good at 2 sec with great form and practice AS often as possible! daily is great:)
Once you get to at least 45 secs –
2. Do max great OVERHAND grip pullups OR 1 pullup hang to :45 secs then
3.  Belt on a kettlebell – (start at 10kg) this one is 20 kg. Get in a full body flexed plank position (see image below and mentally turn him vertical). Hold at the top and breathe!
Do 1  weighted pull up – For MAX time
4.  Then take about 2-4 mins of rest ( I like to dance or write client programs in this time)
REPEAT till 4 sets.
Again – that's 1 full overhand pullup, then reverse grip flexed hold for max time with a hvy bell, then dance party or write awesome notes (no PHONE.. except music- this is YOUR time)
Do this routine once a week (if using a bell.. if working on bodyweight – practice 3-4 times a week flexed BW hang) .
Here's my unweighted overhand pullup (step 1 in the series) – in case you need that:)