Did you know I have a podcast?
(I actually started it 3 years ago)  It's literally FOR you.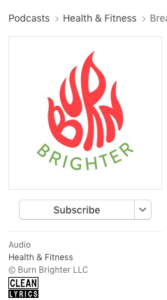 Since I love finding easy ways to stay healthy- I dig up awesome healthy food companies that make it super easy for busy people to eat healthy.
And man did I nail it with this find.  Flax4Life
CLICK HERE to order off AMAZON
You've probably seen their stuff at Whole Foods or PCC – but you gotta know what Flax 4 Life is all about &  what you can totally enjoy!
Gluten Free, Dairy Free Baked Goods!  Chock full of Omega 3's  & Deliciousness
Would you love a muffin? What about a sandwich or a brownie?
If you've got a picky body, this is like turning a knife in you.  Yeah, you'd love one… but OY,Vey! The aftermath. Not just the bloated belly and wanting to take a nap, but possibly revenge from your GI tract and a decent self mental lashing.
Having a picky body bites. My body hates dairy, wheat and most grains. That means no pastries or desserts. Yeah, this isn't a huge deal, but man, it would be so nice to not spend hours making my own healthy options. Not to mention, I would love to actually eat a burger with a bun attached.
Why are all the easy to grab foods, so bad for us! Good things some awesome companies are turning this around for us
Like  Flax 4 Life!
This family run bakery has changed the baked goods game.
They're serving up Gluten Free, Dairy Free baked goods bursting with omega 3's. What's even better is these babies are perfect for on the go lifestyles. All ya gotta do is Grab and GO
Only someone who really understands would create such a perfect option for us picky bodies. Boy do they get it, turns out these very products SAVED their family. They really do mean Flax "for life"

Everyday foods were killing her family
Changing her OWN daily diet got her to run her company and family better (she's got 5 kids!)
Everyone can benefit from cutting out wheat
They keep their goods tasting great while staying Gluten Free, Dairy Free and packed with nutrients.
These products are great for kid's! They love the taste and it's keeps their little bodies and brains super healthy.
YOU can get hold of and enjoy their healthy baked goods right now!
Their single packs keep you indulging mindfully
They are paying it forward big time
And this stuff tastes good! I love the blueberry and carrot raisin muffins, they've made it super easy for me to get in a good breakfast or afternoon snack when I'm on the road.
OH! and they just started carrying cakes! So perfect for health conscious parents. I'm totally ordering one for my nephew's birthday party.
Check out the other goodies:)
email them to grab one:) Limited right now
Granola, soo good as a dry snack
or for breakfast with goat yogurt or almond mil
Muffins! I love these with a smear of almond butter
The blueberries are specially harvest by a local farmer, ONLY for Flax4Life!
Finally, we get our buns back!
I love these with some vanilla coconut ice cream, YUM!
Let know what you and your family thinks of these goods. Come back and leave a comment!
Save
Save
Save
Save
Save
Save
Save
Save
Save
Save
Save
Save
Save
Save
Save
Save
Save
Save
Save