Seattle has a place that saves lives.  It is called Ryther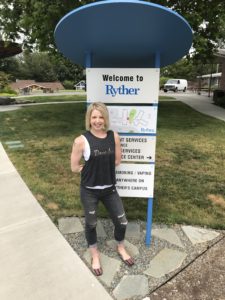 Ryther is a therapeutic center for kids.  A place where kids find healing and hope. CLICK here for a VIDEO of what they do
Now, Hold up a hot second. This place saves more than kids- they save the adults around them AND society as a whole
I know this because Ryther saved my nephew, Noah AND me.
To keep saving lives they need YOUR help  CLICK HERE to learn about the GIVE BIG Project this May 8th, 2019
I pretty much know – Noah and I might not be here (on earth) had it not been for Ryther.
I'll keep this short.. Noah's mother, my sister, stuggles with Paranoid Schizophrenia and Borderline Personality Disorder. Due to her struggles – Noah's life was crazy. He had 2 different names and moved 14 times by the time he was 9 years old. Her psychotic episodes left him abandoned in a hotel room at age 4, abandoned at a police station at age 7, locked in a bathroom without electricity or water at age 8.. and many more I feel too difficult to share.
Noah was 9 when he came to live with me full time. He was literally a trapped soul. He had nervous ticks and behaviors that harmed his own body daily and alienated him from people around him.
I had no idea how hard it would be to navigate daily life with his trauma's and struggles… but also the drama and stress that comes with having a mentally ill family member.
I was in over my head – FAR over. Life got real hard, Real Fast. I know now – had it not been for getting Noah into Ryther's counseling services- he would never have worked through all that pain, so he could actually LIVE life.
Ryther gave me the tools ( we did therapy work together) so I could keep my shit together and honestly, see a bit of light daily.  I can say now that times got so hard – that I didn't think I could keep caring for Noah and I thought of ending my own life.
Ryther truly gave us healing and hope – a simple path to stay on, when we could hardly lift our own heads up.
We were so trapped in our family's fear, anger and hurt – we stopped feeling. Ryther gave us the muscle to unwrap these layers of fear so we could find ourselves and stay ALIVE way better.  Noah's mom got the treatment and help she needed and stays stable with daily meds.
Noah and I found how great life can be and no enjoy fully being in the world. We are making the world way more awesome.. Thanks to Ryther
Happy Mother's Day!  From me and Noah (He's now 15! )