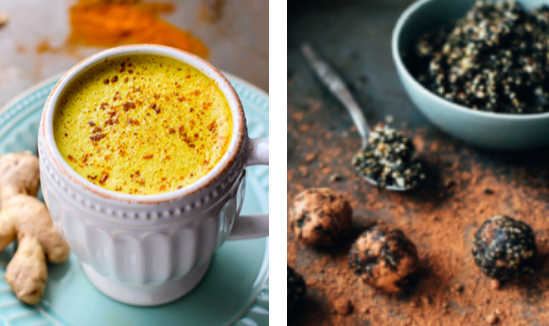 Decadent  (easy/no bake) Spirulina/Cacao Balls + Golden Milk 
  I'm a nightime nosher. When it's cold and dark outside the cravings hit hard. But I hate undoing my workouts and healthy eating with desserts I crave. That's why I keep these decadent cacao balls stocked and ready in my fridge. I grab one when I crave something sweet. They also hit the spot and help me sleep better.  That's due to their nutrients: High in Magnesium, protein, Omega 3, B vitamins and anti-oxidants. Directions below makes about 25 two inch balls
•1/4 cup hempseed
•1 cup cacao powder (not cocoa! look for only 100% cacao ALSO rainforest alliance certified)
•4 tbsp "hawaiin spirulina"
•4 tbsp coconut oil
•6 tbsp raw honey
•2 pinch pink himalayan salt
•1/4 cup unsweetened flaked coconut, small flakes
Combine all ingredients in a large bowl. Mix throughly with clean hands and form into small balls. I roll them up into 2 inch diameter balls, wrapped individually in foil and keep them in the fridge. Perfect for anytime- with afternoon coffee to hold you over, pre-workout snack, before bed when you're looking for something to nosh on.
These will keep your immune system up, boost your energy, calm your nervous system and keep you lean and fit. Happy Holidays!
CLICK HERE for my Golden milk easy set up (great way to keep from that glass o vino, eggnog or other drink that will pack on the belly roll.
stay healthy, get stronger
Love Bre