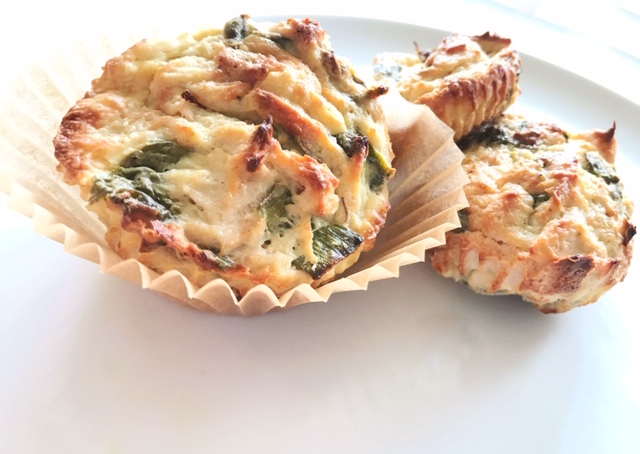 These are perfect for a weekend brunch AND for super busy days (they burn fat, boost energy, keep you super healthy and strong)
My fiance and I love these – We've got to keep our energy up and stay active all day- He does home renovations  (Bicknell Builds) and I have a constant love affair with Kettlebells 🙂
We toss a couple of these nuggets in a ziplock container and when we get super hungry – just pop in your mouth, enjoy and keep going strong! No utensils or time required.
Spicy Tuna Egg Muffins
Yields 24 cake
6 cans (12.5 oz ounces canned tuna- WILD PLANET is Great) packed in water
8 green onions, thinly sliced (about 1 cup )
1/4 cup coconut CREAM + 1/4 cup coconut milk – Full Fat (Go ahead and just buy 1 can full fat coconut milk – use solid cream at top and milk under)
2 tablespoon minced jalapeño pepper OR 2 tsp Sriracha or  2 tsp tabasco sauce OPT out if you don't like spice 🙂
10 eggs
2 cups thinly chopped spinach
1  teaspoon red pepper flakes * optional
2 tsp pink himalayan sea salt
2 tsp Freshly ground black pepper
2  cup sliced cilantro
juice of 1 small lemon
12-cup muffin tin
Parchment muffin liners (optional)
Directions:
1. Preheat oven to 425 F.
2. Put liners in muffin tins (easiest)
3. Mix up all ingredients in a large bowl – very well
4. Pour into lined muffin tins – bake for 30-45 mins ** chaeck at 35 mins and about every 5 mins till done
These are great to freeze and enjoy weeks later.
These pair perfectly with  a Yam & Kale Salad. CLICK here for that recipe
Side Note: If you've been getting Starbucks egg bites AND you want to stay healthy OR lose weight OR have more energy.. STOP! Scroll down to learn eggsactly  why.
 Starbucks Egg Bites –
CLICK HERE for nutrition Info
The ingredients start with egg whites and cottage cheese- but look at what's in the parentheses for cottage cheese.. whey, lactose, salt and a whole bunch of fillers that mess with your gut and dump your energy. Also – notice they bold the healthy ingredients – red pepper, spinach – but Canola Oil?!  That stuff is no good at all.
Take 20 mins make up a batch of the above – freeze some – so you don't have to make em for awhile and carry on, you beautiful strong human you:)