To drop weight fast and lean out – Ya gotta get stronger.. plain and simple. I love the TSC  (Tactical Strength Challenge) for this reason.. PLus it's a helluva lot of fun.
Twice a year me and other awesome humans that like to shove around heavy stuff meet up and perform 3 simple moves.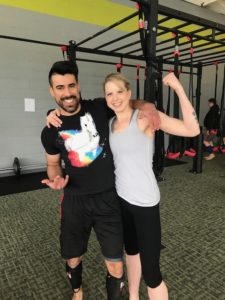 Here's my Kettlebell bud Jorge and I
We are ready each time to do our best in both Strength and Cardio. These 3 moves nail exactly that!   The Pullup, Barbell deadlift and Kettlebell Snatch
( See all three Vids BELOW)
It's the months of training we put in that drastically change our bodies! Every year about a month before the TSC, people start telling me I'm looking leaner and my arms look stronger- 2 things I love hearing:)
HERE"S THE TRICK:
Keep it SIMPLE and TRAIN SMART – Allow yourself more rest days, just twice a week on this routine is plenty – also allo plenty of rest between sets.
Here is what I do every Tuesday and Sunday- with 4 mins rest between sets of deadlifts and pullups
1. Chin Ups -Overhand grip, strict plank form – no kicking or momentum allowed! See video below.
I jog around a track or on the treadmill btwn my sets.
DO MAX pullups OR 1 hang hold for max time
stretch or jog for 3 -4 mins than go again – DO 5 rounds
2. Deadlifts – Do your 3 rep max
take 4 mins between sets, shake out your muscles.. stay moving – but DO NOT do any other WORK.. stretching, rolling is great.
Take on 4-5 rounds of 3 lifts- first lift should always be about 25 lbs lighter than your 3 rep max
3. Snatches! My fav:)
Set a timer for 5 mins. Grab the smart weight for you – perform 8/8 at the top of each minute – work up to 12/12
So at start of time do 12 snatches rt/ then 12 snatches lt. then set it down and take your 10-20 secs rest and go again!
SEE ALL VIDS below
If you wanna start training with these moves – BE SMART! Make sure you really know and feel good in these lifts. If you don't you can really get hurt.. Get yourself an SFG coach ( ELITE trainer in barbells, kettlebell and bodyweight moves)- AKA – ME!
** Remember this! To get stronger and leaner – you MUST let your body catch up.
Ya gotta get in more sleep on heavy lift days (especially night before)
You also do the most you can safely – no pussy footin' around. – Grab that heavy bell, pull up your full body. Put those assisted bands and light bells away!On;y do the reps you can do well. Stop when your form falls to shit and rest at least 2 mins before you attempt your next rep
Here's my last TSC! I'm making small but gradual improvements every year
2 pullups  (they're freakin' hard! )
215lbs on the Bar
113 Snatches at 16 Kilo
Join me next time – OCT 2018 – CLICK HERE for TSC details, it's in every city WORLDWIDE!  Start training Now for it!
You'll be amazed at how lean and strong you get