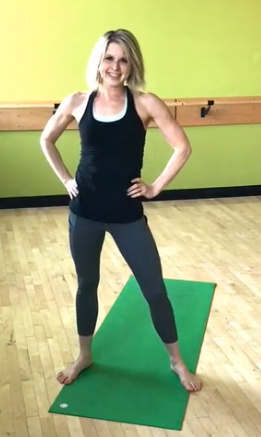 To feel kickass AND look amazing.. we've got to CONSISTENTLY do the stuff!
(THE stuff= feed ourselves healthy foods + move with purpose)

Doing your stuff EVERY day + keeping up with everyday life.. that can be tricky!
If we have a clear path with a simple roadmap, it's totally doable!
Imagine waking up, knowing you have all the healthy foods set up for you AS well as time to get in your moves.
How might you feel if you could eat better every day and get in some quick and fun strength moves?
This can happen!  You just need to find YOUR path.
(check out the options below. If this feels awesome to you..
Hit me up for a 20 min complimentary meeting)
206-310-9079 **text is best
breanne@burnbrightercoaching.com
Your Path = something you can sustain with solid consistency AND keeps you challenged.
To make darn sure you can stay on that path.. I've created options!
Maybe you're wanting one or more of:
In person workouts
Coaching phone calls to keep you planning your foods, workouts and days right
 Video workouts you can do anywhere
Weekly Recipes
In person nutrition coaching (knowing exactly what to order, pack, make, eat + what workouts to do every day o' the week)
Body Fat tracking + measurements. metabolic rate tracking + segmental analysis to track your progress and keep you on track.
A super tight plan with ALL the things! Training sessions, in person and online coaching, measurement tracking + exact steps of what to eat and do daily
Whatever works best, we create YOUR path together
4 options below! Scroll down
ONLINE COACHING
(15 mins once weekly) 8-12 weeks
Every week you get:
• 1 Bodyweight Workout Video with step by step guide
• 4-5 New Quick & Easy Recipes ( keto/paleo/anti-inflammatory)
• Packaged Food guide for hectic days
• Science backed info sheets
All Downloadable
PHONE COACHING

(half hour) 2x monthly
• Custom built weekly workouts
•Grocery shopping list
• Weekly eating plan
• What to order out, what to pack, how to fit in meal prep
• Checklist of what to do daily
IN PERSON

COACHING

Weekly or twice monthly
At Magnuson Park macseattle.com
• Detailed workout plan w/homework

Personal Training sessions (solo and/or small group)

Grocery list


• Super specific

food and eating out plan


•

Daily Check list


•

Body Stats(InBody measurement of fat, muscle, segmental break down + tape measurements )