You know how you have that ONE thing you really want to get done, but you just can't seem to just do the work you know you need to do?
Congrats, you're human! We all do what we want rather than what we should. Especially when that thing on our goal/to do list is out of our comfort zone!
I have the same struggle with a professional goal of mine right now, and I'm thrilled to say I'm finally breaking my super sticky bad habits that were totally holding me back from what I reeeaaallly want.
It's all thanks to a super fast and easy tool  UNWIND APP, from Psychiatrist & Neuroscientist Jud Brewer. 
He teaches people super simple ways to break their bad habits- Here's his TED TALK. This is totally worth your time, trust me
Check out his skill I've been practicing at least 3 times a day and IS totally working:)
I ha
ve been struggling with avoiding a large work project and have gotten really good at distracting myself (sound familiar?)
Anyhow – I thought why not and clicked on this APP – UNWIND . There is a free trial, you should definitely check into – UNWIND APP click HERE
Here's MY fav trick I learned in the first lesson-  THE feedback loop.  This is something we all do (if you're a human being)
Check out my example below (this is off my office whiteboard)
Think of any bad habit you have. (getting to bed too late, oversnacking, running late, smoking, drinking … you get it). These are all forms of numbing ourselves from something we don't wanna experience. These numbing can lead to worse habit IF we keep doing them.
Check out Dr.Jud on Insta.
Here he shares his image of the Habit loop. How we keep looping and how to break it by simply- laying your out, LOOKING AT IT and seeing how to practice a better way.
I'm working on this daily (see MINE below)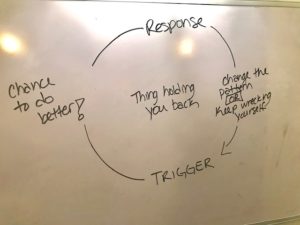 All ya gotta do is look at what you're doing and CHANGE it.
This takes PRACTICE, but mapping this out. Literally FACING what I've been doing and finding a super simple way to change my habit has been HUGE! I am feeling way less stressed and overwhelmed and am gaining some serious traction towards my goal!
STEP 1: – write out this template ( image to left)
then plug in YOUR STUFF, here's mine!(time to own up)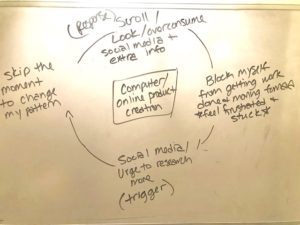 This is my BAD habit loop (image to the left)
I have totally formed a "Feedback LOOP"
When faced with my challenge – I turn to a distraction (social media, or online research)  Umm. I spent an hour learning about Lion's Mane mushrooms the other day, rather than put together a super impactful tutorial for my students
This has become a big deal AS I have great services I know will greatly help other people, but I just haven't been getting the work done to bring them to people online!
so this is my new habit loop, I've been practicing daily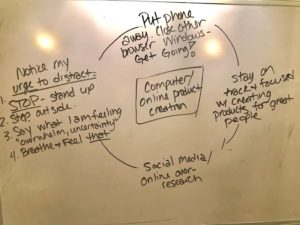 And it's working!
When I feel overwhelmed. I
1. STOP
2. Step away from my computer and phone
3. breathe
4. Name it to tame it – SAY what I am feeling
5. Get fresh air  (step away from my workspace) for a minute and let myself FEEL that feeling for 2 mins.
Then I say how I wanna feel (my twist) – ex: "calm, decisive, grateful"
This has helped me move on – I'm creating some super cool online video workshops to teach people how to feed themselves better daily. Watch out for that!
I can't wait for this all to happen. I just gotta keep practicing my new GOOD habit feedback loop!
No GO, Draw out your own Feedback Loop and  get  UNstuck 🙂