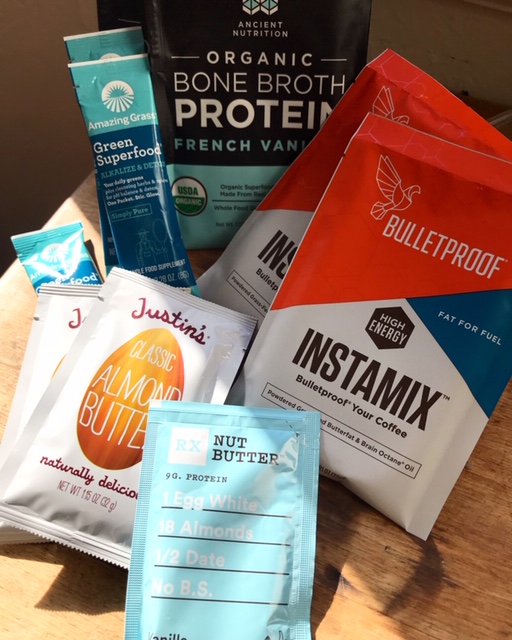 So I was gonna give you some awesome Thanksgiving healthy recipe.. That would be great, right?!
Buuuut, let's keep it real here.. Life is busy and really what we all need is a super easy way to keep up with our days without ending up grabbing a big mac, or coffee shop pastry right?!
Also.. I figure you've got some travel coming up/days where you may not be in your own kitchen or in control of prepping healthy foods.
Here is my super simple set up – that covers all your bases!
Your Bases =
Yummy
Nutritious
Energizing
Filling
Releases kickass superpowers
These foods Daily
Bone Broth Protein Packet 1/day 
Nut Bag ( snack bag of  10 macademia nuts or 10 brazil nuts +1/2 cup large coconut flakes) – 1/day
This set up will get you your daily dose of Top Proteins, Healthy Fats, Vegetables AND caffeine:)
Do exactly This
Breakfast :
 Bulletproof Instamix  –  Stop at your best choice for coffee each AM – Order 2-4 shots of espresso with about 1/2 cup of hot water (AKA – Italiano) and dump this baby in there, stir well and enjoy!  Not into espresso, no sweat- pain coffee – bout 10 oz will do the trick.
This IS your breakfast – you'll be holding steady for 3-4 hours – need more info on why this works/what it's about? Cool.. CLICK here for all that.
WHEN HUNGRY – 3 hours/ ish after bulletproof  hit this up
2. Amazing Grass + Ancient Nutrition Bone Broth Protein packet  This is your veg!  Toss this in a blender ball bottle
Shake the crap out of it – down it and feel awesome!  What's that? Does it taste good?  No – this is bone broth protein + the best stuff from our good green earth.. but it's goddamn worth it – so plug your nose, chug it quick and feel damn proud of yourself
3. Wait till hungry (jst don't go over 5.5-6 hours) – then enjoy your nut bag
4. No good options for lunch? – No sweat – open up that second amazing grass + justin's almond butter
5. USE the RX nut butter – ONLY on high activity days. Getting in a bunch of walking – over 3 miles OR heading into a workout? Great squeeze this delicious butter in your face:)
You do NOT need this if you are not active- unless you like seeing extra inches on your hard working bod.  Stick with plain Justin's on your days where you're mostly sitting.
\
OKay – that's it! keep these on you and you'll be sitting pretty! ( and calm and smart and strong)