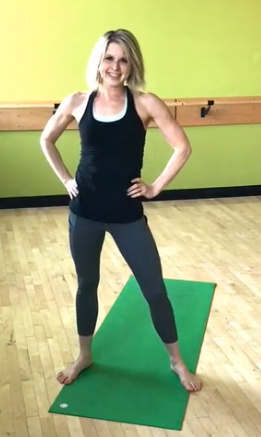 For the busy adult who needs someone to come to them!
Someone to meet them where they're at, literally.
Hand them the healthy foods they need to eat and the best workout moves, so they can get stronger.. feel awesome in less time and with way less stress!
Simple, quick, challenging and totally doable. That's how I roll 🙂
I've created 2 ONLINE Coaching Programs ( CLICK Here for IN Person Coaching @Magnuson Athletic Club )
These are weekly video modules I drop straight to your inbox every Monday morning.
All you need to do is  Choose your Level… Then CLICK, WATCH & DO
Every weekly lesson delivers
Weekly recipes ( High Anti-Inflammatory = free of gluten, grains, cow dairy & sugar)
Weekly video workout you can do anywhere.
2 LEVELS to choose from 
1. Burn Brighter Signature Program – The FULL SheBang! CLICK for Details
For the curious student that wants to know WHY.
Video tutorials explain why each week's foods & workout  will get your body to drop fat, gain strength and make you feel more awesome!
2. Stay Brighter– Just the Facts, maam! CLICK for Details
No Tutorials on the why's.  We keep it simple with  NEW weekly Recipes + body-weight workouts.
Sure you'd like to know why.. but let's get real -you have enough on your plate & there's no way you can fit in a 20 min video lesson.
My #1 goal is to meet people where THEY are at.
First Understand THEN Upgrade.
Check out each level. Choose which feels best
THEN reach out to me for a complimentary 20 min phone consult.
Students often add on side support options. This is so you can have your best set up to stay on track!
15-30 min weekly (or 2x monthly) check ins- Body Stats ( I use the InBody CLICK for details  )
Body Fat, segmental analysis, good 'ol measuring tape for circumference measurements. We analyze both to see what is and is not working.
Then we set up a detailed plan for 1 or 2 weeks, so you know exactly what to buy, order, eat & do.. Daily!
+ Workout homework  you can get done ANYWHERE.
Phone Coaching- A weekly (or twice monthly) 30 minute check in.
Same as IN Person.. just no Body Stats. This   keeps you accountable and knowing exactly what to do to keep moving forward with totally practical challenges (foods + workouts) you can for sure nail.
CLICK HERE for small group class times + personal training info