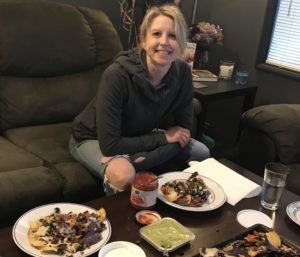 Bre's Fall Tacos.

Use the recipe below to make CHILI or put on top of SIETE chips  to make healthy NACHOS:)
Free of corn, wheat, cow dairy. Chock full of comfort and deliciousness!
ENJOY While you listen to this Super Awesome Podcast Episode!  It'll help you level up on all the levels:)
 Super delicious meat/CHILI recipe with 9 spices
For 4 people
3 lbs of ground beef, grassfed
3/4 cup diced yellow onion
3/4 cup water
2 cups tomato puree
+ 5 tbsp Taco seasoning (from Danielle Walker Against All Grain's)

3.5 tbsp chili powder
1.5 tbsp himalayan pink sea salt
1.5 tbsp ground cumin
1 tbsp ground dried oregano
2 tsp onion powder
2 tsp ground coriander
2 tsp paprika
1-3 tsp cayenne
1/4 tsp cracked black pepper
In a large saucepan/pot
saute the onion for about 4 mins with ghee, add the beef – until just lightly browned/cooked. Add the tomato puree, and water and spices – bring to a boil, stir well and let simmer for 15-20 mins.
(perfect to reheat/ keep warm in a crock pot!)
Serve with
Cheese – I use Trader Joe's goat cheese – it shreds great!
+ Guac, salsa, lightly sauteed bell pepper, olives.. YOU PICK!
For Chips or wrap.. Go with
SIETE!  – Grain Free and Breanne approved in every way
I love their mission of helping others stay healthy AND their fierce family focus (the logo is a symbol of their family – GARZA.. and SIETE is for "seven" the original 7 family members"  If you have a couple mins check out their site and all they do CLICK HERE for SIETE)
I love the tortillas – I put one in the toaster oven – until just crispy, like a tostada!
I top it meat, guac, salsa, peppers and of course and EGG on top. I pretty much put an egg on top of everything:)
ENJOY!