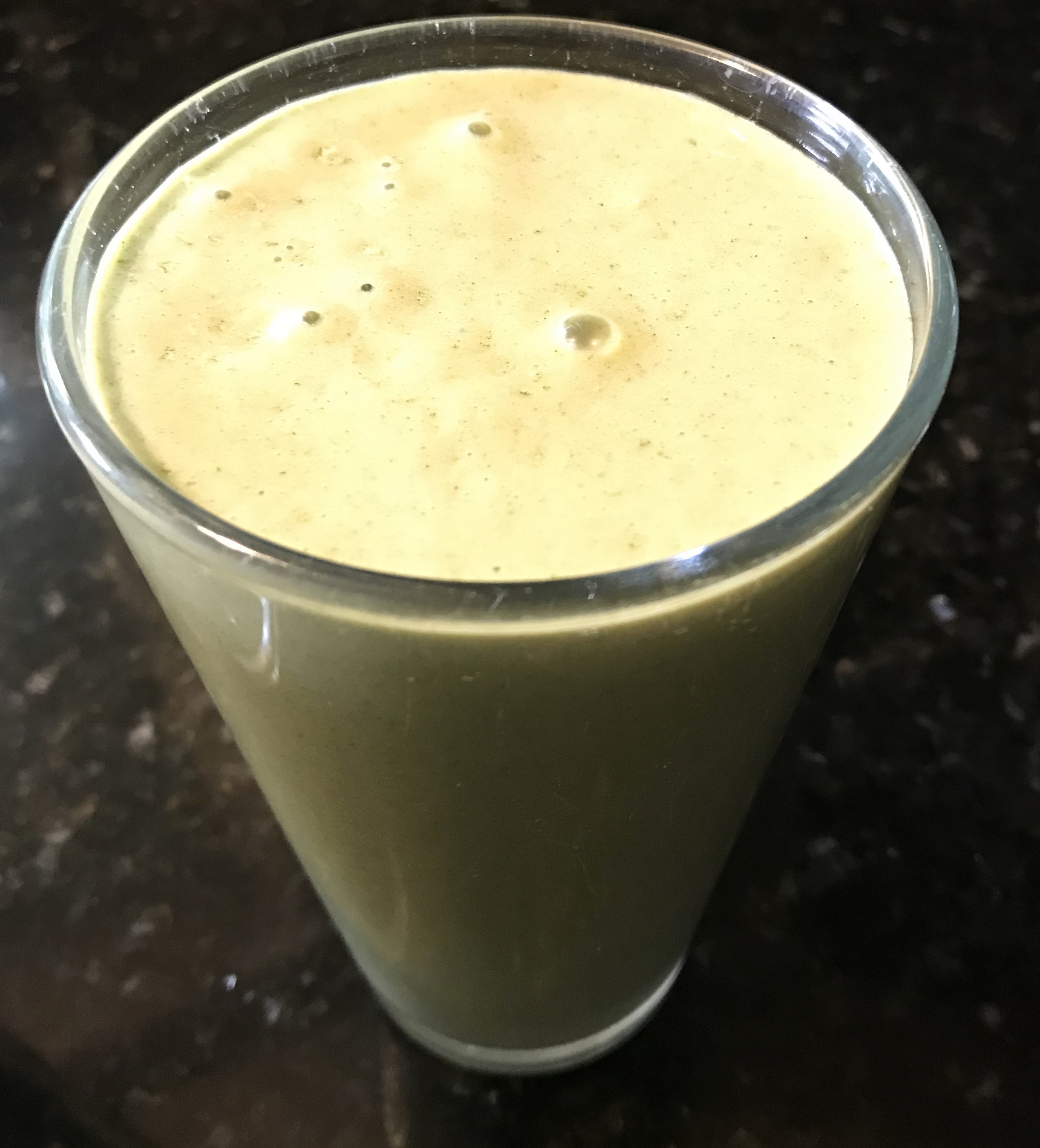 This is my "BEST" Green Smoothie recipe! I have this 6 days a week, It's basically my breakfast 4-5 hours  after I drink BULLETPROOF COFFEE
Check out the vid then scroll down for all the details and step by steps you could want!
ALSO – make sure and check out the 2nd video on how to make the best smoothie choice when you're ordering out OR buying a bottled juice at the store.  I hope you love this set up, it makes my days so much easier!
This smoothie is "The best" because it
Tastes good
Keeps you pleasantly full (fills you up – for at least a few hours)
Packed with lean protein
Keeps you lean and energized (anti-inflammatory)
Chock full of amazing nutrients
Easy to put together!
Here's what is in 1 serving
1 cup almond milk
1 cup water
1 small avocado
2 " nub of fresh ginger (peeled)
2 cloves of garlic
1.5 cup frozen blueberries
Put all in a blender, mix well and put in 3-4 vessels. Freeze 1-2 to make it last longer and take some work off you in upcoming busy days:)
These will last up to 3 days
PRO TIP!  Make this just twice a week. I make enough for 4 smoothies on Fridays (I just freeze the other 3)  I don't have a smoothie on Sundays.
Then I make it again on Wednesdays for 3 days. This helps me stay on track better.
Another Vid for you!  (From a couple years back with not such great hair or camera) here's what you do when you're on the go and gotta make the best  choice at a smoothie stop or at the store:)
1.  " COLD PRESSED" if available – that means heat was not applied in the juicing and there are more and better nutrients!
2.  Go for Most Green Option – Veg heavy ensures you're getting the most nutrients possible + keeping your energy up, brain clear and waistline low:)  ** FRUIT Smoothies are for kids!
3.  ONE Fruit MAX! If that. Try and opt for no fruit at all – If it's a smoothie bar – just take out the other fruits- I love adding in Avocado instead:)
4. Look at the label – you want least amount of sugar and carbs + most protein.
CHECK OUT VID and CLICK my top 3 juices options below. Available Online (order to your home) or at most grocery stores. + The best juice bar chain options
MY top choice as of Nov 2021 = Farmer's Juice!  Check out Farmersjuice.com  for these top quality, best quality ingredient juices that are shipped straight to your home! I am a HUUGE fan right now.
Next up at most stores = Evolution Juices
JUICE PRESS is a super awesome chain of juice stores, We have 2 here in Seattle (our VERY own Seahawks,Russell Wilson, is one of the owners)